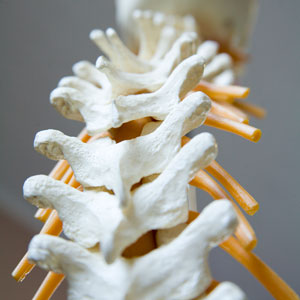 As a student philosophy was a central course, beginning with the principle that organisms have an innate power to maintain their own health.
My original chiropractor had focused on how the nerve system (the brain, the spinal cord and nerves) manages the body's vast chemical interactions to help ensure proper function.
He had explained that the brain sends messages through the spinal cord across a huge network of spinal nerves to deliver information to the cells, organs and systems of the body. This information system coordinates my myriad of chemical reactions that dictate how well I slept, how well I digested my food, as well as my ability to concentrate, my physical coordination, the capabilities of my immune system and all aspects of my body functions.
He stressed that science has found that the nerve system controls all other organs and tissues of the body, and when it functions optimally, it facilitates the body's ability to cope with disability and disease. He recognised that many factors affect health, including exercise, diet, rest, environment and heredity.
Unlike my prior medical treatment, he relied upon my body's natural, inherent recuperative abilities.
When bones of the spine become misaligned or move out of their normal position, they can distort the flow of information from the brain to the body. Without the proper information from the nerve system, the body cannot function to its full potential. That is why chiropractors correct vertebral subluxations — to correct interference to the nerve system and the body's ability to control and coordinate its many functions.
At Palmer, I learnt that the chiropractic approach to health care is holistic, stressing the patient's overall wellbeing. Chiropractic focuses on maintaining optimal health naturally so that the body is better able to resist disease. Palmer never taught that chiropractic is limited to back pain, neck pain and headaches.
Palmer students learnt the art of chiropractic that focuses on adjustments to correct spinal malfunctions, called subluxations, in order to remove interference to flow of nerve messages via the spinal cord and the nerves that exit/enter between the bones of the spine to most of the body.
Our teachers spoke of the nervous system influencing the entire individual in all of his or her unique complexity. Students were encouraged to view chiropractic as influencing whole-body health care, as far more than just a set of symptoms coming to their clinic.  The Palmer vision of chiropractorswas of being holistic, working in partnership with our patients to encourage optimal health and wellness in all facets of their lives.
This unique health care approach viewed the body as having an innate, natural ability to adapt to changes in its internal and external environments and maintain itself in a state of health.
I knew that traditional medicine and its allied health fields typically view the body from a more mechanistic standpoint — as a system of parts that can be altered through outside interventions to produce certain results. Both approaches have important roles to play, but they are fundamentally distinctlydifferent.