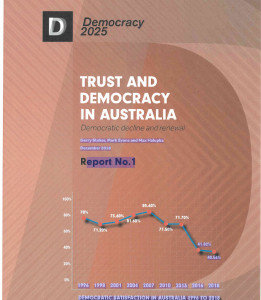 Reading quotes from Democracy 2025 permits chiropractic patients to realise that we are among the majority of Australians who have lost our trust in our democracy. Whose interests is the media serving, and whose interests is the media betraying, by Australia's media's daily informed silence about the key issues in this study?
These are a few quotes:   "Across Australia trust in our democracy is on the decline.  Trust is the glue that facilitates collective action for mutual benefit. Without trust we don't have the ability to address complex, long-term challenges. Trust is also closely tied to democratic satisfaction.
MoAD's (Museum of Australian Democracy) recent research, Trust and Democracy in Australia, shows that in 2018 satisfaction in democracy has more than halved in a decade and trust in key institutions and social leaders is eroding.
By 2025 if nothing is done and current trends continue, fewer than 10 per cent of Australians will trust their politicians and political institutions resulting in ineffective and illegitimate government, and declining social and economic wellbeing.
This problem must be addressed as a matter of urgency."
For decades, our patients reported a virtually zero level of trust in the media, organised medicine, politicians, and their bureaucracy, Australia's health care Establishment.
US medical association were convicted of a conspiracy to contain and eliminate chiropractic in the USA and elsewhere. All politicians should know that conviction disqualifies any medically aligned body from having the authority to control the liberty of patients to access chiropractic care.
Chiropractors could only watch in horror when politicians gave medically aligned AHPRA control over Australia's chiropractic profession. (Yes, AHPRA is the body chaired by Scomo's brother, Alan Morrison.)
However, Australia's health care Establishment shares a darker secret.
For decades, Australia's chiropractic community has known that the Establishment has conspired to conceal, rather than reveal, the true epidemic total of deaths due to medical treatment as distinct from the patient's disorder. John Archer guesstimated some 50,000 iatrogenic deaths per year[i].
Best wishes,
Michael McKibbin DC
---
[i]  Archer, John. Bad Medicine: How Safe Is Modern Medicine. Simon and Schuster Australia, East Roseville, NSW. 1995. P184